Three Storey Townhomes
Newcastle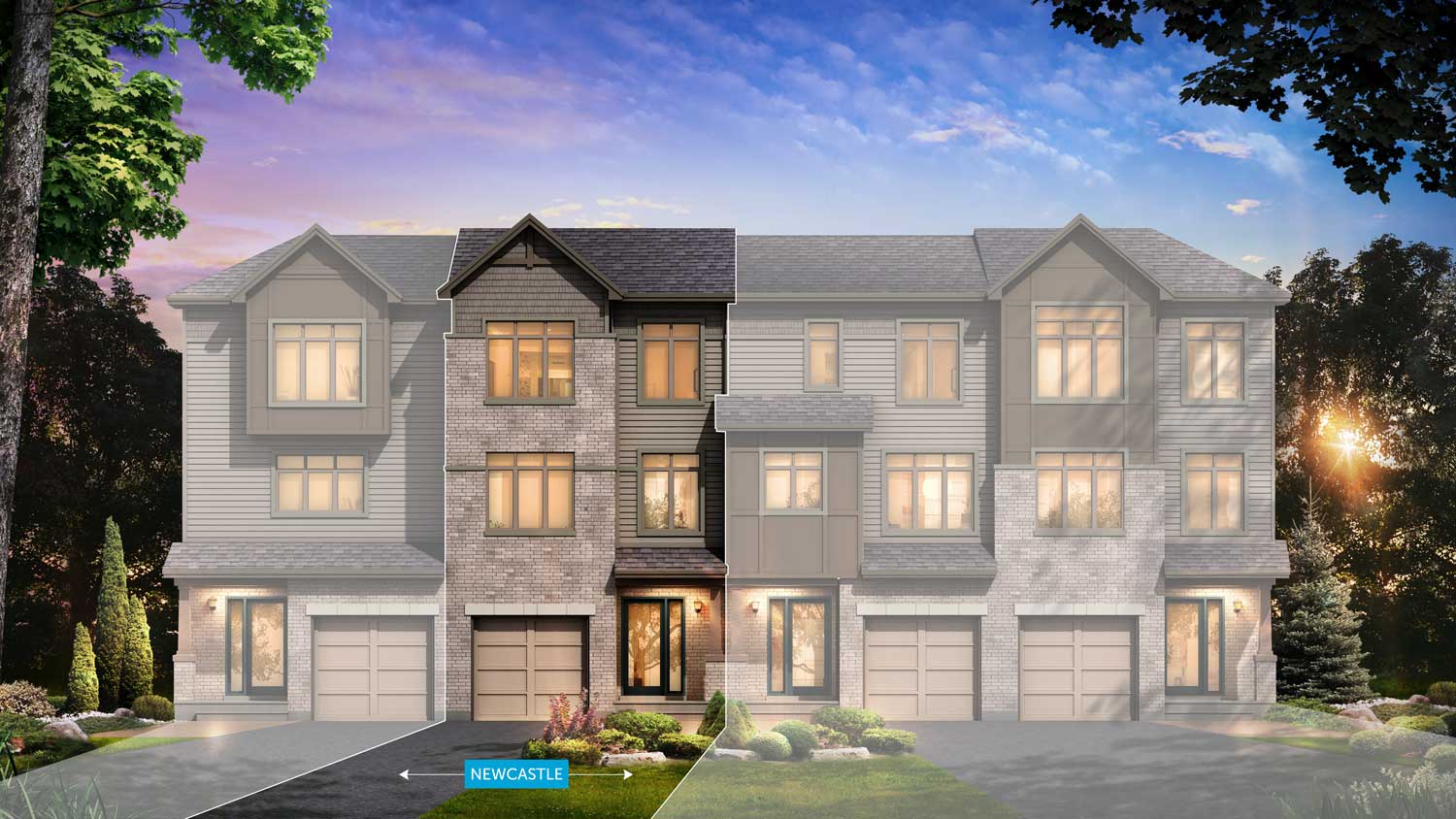 Featured Specs
| | |
| --- | --- |
| | |
| SQ FT | 1840 |
| Bathrooms | 3 |
| Bedrooms | 3 |
Floor Plans & Layouts
Select a Floor Plan below to view:
Ground Floor
Second Floor
Third Floor
Basement
Specifications
Energy Star Certified
Third party review, inspection and testing for qualification
Enrolment and testing fees included
Final certificate and label provided
Foundation and concrete floors
Steel reinforced 8" concrete foundation walls
Cement parging to exterior of exposed concrete walls
Drainage layer system to exterior foundations walls
Perimeter 4" drainage tile system
Concrete basement floor 3" with troweled finish
Reinforced concrete garage floor with broom finish
Framing
9' framed ceiling heights at the ground floor level
8' framed ceiling heights at the second floor level
Pre-Engineered floor joist and roof truss system
Steel beams and teleposts as per plan
Sub-floor: 3/4" tongue and groove sheathing, glued, nailed, sanded and screwed down
Underlay: 5/8" added to sub floor under ceramic tile
Exterior wall (except garage) 2"x 6" studs at 24" centers
2" x 4" interior walls and 2"x 6"/ 8" mechanical walls. Studs as per plans
Basement exterior walls framed to floor with 2"x 4" studs at 24" centres, as per plan
Party wall (between dwellings, all levels except basement and attic) two separate 2" x 4" stud walls at 16" centres with sound deadening insulation and 5/8" fire-resistant gypsum board each side. Party walls at basement level to be 8" steel reinforced poured concrete; height as per plans
Exterior Features
Front entry door system, contemporary design, full lite frosted glass insert complete with one full lite clear side lite panel, insulated door with weather-stripping
Energy Star qualified Zone C, low e-argon casement and fixed windows as per plan
Oversized low e-argon thermal sliders in basement as per plan • Garage man door, metal insulated with weather-stripping
Two sliding patio doors at rear as per plan
Steel, sectional, non-insulated, overhead garage door
Exterior finishes: Brick, vinyl siding, vinyl shakes and cement board (as per plan)
Prefinished soffits and fascia as per plan
Pre-selected exterior designer elevation colour packages • Fiberglass roof shingles with lifetime limited warranty
Exterior house wrap, except garage
Mail box and civic address numbers
Balcony on second floor (as per plan)
Insulation, drywall and paint
R22 insulation in all exterior walls, except garage
R20 insulation in all exterior basement walls, height as per code
R50 insulation in attic where height permits
R32 in garage ceiling with floors above
Expandable foam injection around windows and exterior doors
6 mm polyethylene vapour barrier
Fully drywalled garage with 1⁄2" gypsum and one-coat finish
Stippled plaster finish on interior ceilings; kitchen and bathroom to
have smooth finished ceilings
Wall paint is to be white latex flat finish. Latex semi-gloss for all
bathroom and kitchen walls
Interior wood trim and doors with white semi-gloss finish
ROUGH-IN
Five cat 5 telephone outlets as per plan, includes first, second, and third floors
Five cablevision outlets as per plan, includes first, second, and third floors
Communication panel and electrical panel located in basement • Central vacuum system rough-in to basement
Laundry connections for future electrical washer and dryer
as per floor plans
Copper and electrical line set for future air conditioner
(with no final connections)
ELECTRICAL SYSTEM
100 amp electrical breaker panel
Outlet for future garage door opener
Two exterior weather-protected outlets
Smoke and CO2 detectors as required by code
Front/rear door chime system
Microwave and hood fan combination, 6" duct to exterior
Decora style light switches and outlets
Electrical outlet in basement beside panel
Draft protected exterior ceiling and wall outlets
Contemporary fixture package through-out includes
additional fixture upgrades:

Light fixture in dining room
Overhead lights in all bedrooms, including Master
LED pot light over all ensuite shower enclosures and main
bath tubs
Brushed nickel vanity lighting over all bathroom vanities » Exterior light fixture at front and rear doors
Exterior pot lights in soffit over garage door
Use of CFL lightbulbs in compatible fixtures
PLUMBING FIXTURES AND ACCESSORIES
Drain Water Heat Recovery (DWHR) unit
"Pex" type interior water piping
White bathroom fixtures
Water saver low-flush toilets (Dual flush)
Gas-fired tankless hot water heater (rental)
Deck or skirted tub in main/ensuite bath (as per brochure)
Pre-fab shower enclosures with clear glass door in ensuites (as per brochure)
Pressure-balanced mixing valves in all showers
China sinks in all bathroom vanities as per brochure
Full vanity cabinets in powder room as per brochure
Chrome towel bars and tissue holders. Ceramic soap dishes
Bathrooms equipped with single-lever faucets
Kitchen equipped with single-lever, pull-out spray faucet
Double-bowl stainless steel kitchen sink
Shut-off valves under all sinks and toilets
Laundry tub with faucet; location as per brochure
Two frost-free lawn service faucets, at garage and rear exterior
HEATING, VENTILATION AND FIREPLACE
95% high efficiency gas-fired forced-air furnace system with electronic ignition and 2-stage burner with variable speed ECM fa
HRV - Heat Recovery Ventilator (HRV) interconnected to furnace
Programmable digital thermostat
All bathroom exhaust fans ventilated to exterior
Ductwork sized for future central air conditioning
Duct sealing compliance as per Energy Star requirements
Ductwork power cleaned prior to occupancy
CERAMIC AND FLOOR COVERING
Full height ceramic wall tiles around skirted bathtub, 16" minimum row height of wall tiles around deck tub (from builder's
standard samples)
Ceramic floor tile at front door entrance area and powder room (choice of one colour from builder's standard samples)
Ceramic backsplash in kitchen (choice of one from builder's standard samples)
Resilient cushion flooring in kitchen, breakfast area, bathrooms and above grade laundry area as per brochure; choice of one colour pattern from builders standard samples
40 oz nylon carpeting and underpad in living areas including living/dining/lower hall, staircases, bedrooms, family room/den, and loft as per brochure (choice of one colour from
builder's standard samples)
INTERIOR TRIM, RAILING, CABINETS AND HARDWARE
Contemporary styled 1-3/8" interior doors including all closets
MDF 2-3/4" window and door casing
MDF 3-7/8" baseboards
Solid oak handrails and spindles as per plan
Oak nosing under all floor-mounted railings
Oak capped half walls as per plan
Quality crafted kitchen cabinets and laminate countertops
(choice from builder's standard samples)
30" upper kitchen cabinets
Full-depth pantry where applicable; refer to sales brochure
Over-the-range microwave/hood-fan cabinetry
Full vanities in all bathrooms
Bank of drawers in ensuite vanity (if space permits),
as per cabinet plan
Medicine cabinets in all bathrooms except powder room
Satin-finish, lever-style interior door hardware with privacy
sets in main bathroom, powder room, master bedroom and ensuite bath
LANDSCAPING
Fully sodded lot in accordance with landscape plan
Asphalt paved driveway
Pre-cast patio stone walkway
Streetscape planting in accordance with landscape plan
WARRANTY
One year warranty with Builder
Seven year warranty with Tarion Warranty Program
*Disclaimer
Plans, specifications, and materials are subject to availability, substitution, and modification without notice:
As per plan' refers to working drawings submitted for building purposes or supplier's plans at time of construction which may vary from models, brochure elevation and plans.
Specifications may not apply to pre-built inventory prior to this release and Energy Star features are subject to change pending the requirements at time of unit registration.
The builders reserves the right to:
Choose between alternatives listed in the specifications
Substitute materials of an equal or better quality for those specified
Exercise architectural control for all exterior finishes and has final approval of all exterior colours
E.& O. E. Singles/Revised 2016
Prices and specifications are subject to change without notice. E.&O.E
Available in this Community
Talk to a sales representative today!